How many people are part of WBC?
Our church is very diverse. We have approximately 70 families and/or single people who call WBC home (about 160 individuals or so). Most Sundays we will have 80-100 people in attendance and as many as 20% can be visitors in any one week.
What is the age of the congregation?
We are mixed ages with most people being children, young adults and families. We also have a handful of people in their 40's, 50's and 60's with adult children who have now left home, or no children. We also have half a dozen older people who are of great value in our group. We represent the demographic of the Whitsundays area well and have something to offer everyone.
What do you do at church on Sundays?
There are a number of things we do on Sunday. We almost always sing some songs (usually will a full band), the style is quite contemporary. We will generally have someone present an encouraging and motivating speech connected to Christian belief. We will pray; usually this is done by one or two people up front and everyone else 'prays' in their minds. We also take an offering to enable us to do the things we do. At the end we serve donuts and coffee. These are the regular things we do at church. Sometimes we also have other things going on too.
Will I be expected to do anything?
You don't have to do anything when you attend church. You can get involved as much as you like, but if you want to just sit and observe, you're welcome to do that too. There are no rules about how you participate.
What football team do you support?
That's a tough question. We do have some people who have migrated up from down south… but most people support the Queensland teams.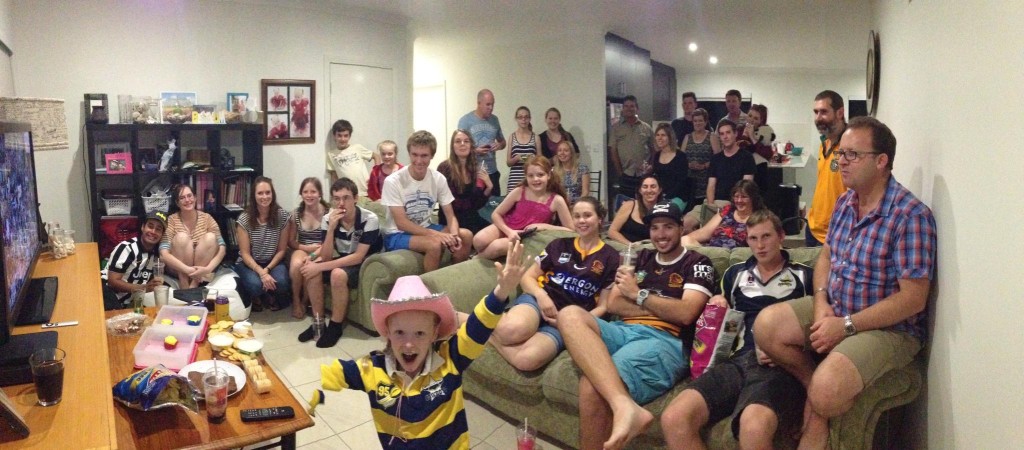 Can anyone attend?
Absolutely anyone can attend. Man or woman, adult or child, any culture or language, gay or straight, rich or poor. There are no rules to attending church.  It is a public meeting which focuses on our relationship with God and people. Change is the agenda of all of us, and where you start from doesn't matter… in fact, Jesus teaches that the worse you are, the better you'll understand the Great News he brings.
What does it cost to go to Church?
Nothing. While we do give money, this is voluntary, and not a requirement for attendance. Giving is all about expressing worship to God and having money to do things for others.
What does WBC believe?
At WBC we believe that our beliefs influence our actions.  We ascribe to the Nicene Creed and are part of the Queensland Baptist Community, but more than that, we try to live out our faith as part of our lives, not just as something that we talk about.  We have no hidden agendas or secret handshakes. We're just a great place to visit, and a great place to belong.
First and foremost, we believe in God as revealed in Christ Jesus and through the Christian scriptures.
We believe in people, the intrinsic value of a human life and the potential of each individual God has created.
We believe in prayer – prayer is important in everything we do not because it changes the will of God, but because it changes us and what we do as we pray and hear from God.
We believe in being relevant in everything we do, from the songs we sing and the message we proclaim, through to the place we meet and the coffee we serve. We strive to be relevant to our context.
We believe in integrity and honesty. We seek to have integrity in all we do and say and in every dealing we have with others.
We believe in unity and diversity. We are not all the same, but we all share in a common faith in Christ Jesus and trust in God.
We believe in equipping and releasing people into real, passionate, living involvement in the work of God and of the Church.
We believe in you – more than that, God believes in you. Come and find out what it really means to have someone believe in you and accept you for who you are.